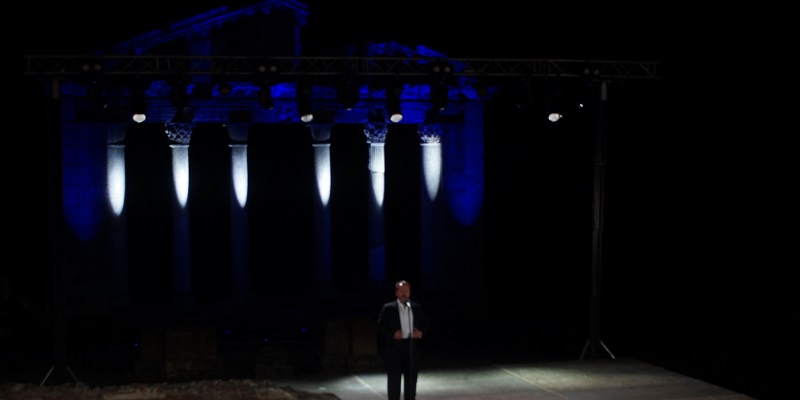 Fier, Final Event - The White Mourning
Overview
100 years ago, the writer Kristo Floqi wrote a cycle of comedies, among which "Zi e me zi" is the work that has been put more on the scenes all over Albania.
Director M.Kutali has built a variation on this work and has titled it " The White Mourning".
The work begins with a countess from a southwestern region, the so-called "Countess of Varibob", who in commemoration of the anniversary of the separation from the life of her beloved husband goes to the cemetery with a bust of her ex-husband.
It is no coincidence that she meets an Italian there, who also lost his wife.
Both while crying in the graves of loved ones, start an affective relationship with each other ...
But even more is felt in the cemetery the devotion of another lady, "Mrs. Gale" who has been there for three days and swears that she will mourn for her husband and will not even see any color other than black. ..
Her words find the opposition of the maid who seeks to turn the lady into the philosophy: "The dead with the dead, the living with the living". But Mrs. Gale decides not to do as the whole world does (40 days of spiritual tradition of mourning) but insists that she will live only with the memory of her now dead husband ...
For the tears to come, she will drink and get drunk, as the deceased did to cry day and night.
The maid encourages her in this venture and builds a plan with her boyfriend and his friend who is in love with "Lady Gale". While the countess and her Italian friend attend the ritual at the cemetery but also give signs of rapprochement between them.
Mrs. Gale, who has spent another night near her husband's grave, meets two friends who are waiting for her in the courtyard near the cemetery to comfort her. Excited, Mrs. Gale invites them to drink a glass of wine in memory of the deceased. As they remember the dead, they start singing and dancing, drinking and having fun.
In the end, the proposal comes out: "Mrs. Gale should not be left alone, her husband should be replaced.
The comedy closes with the wedding of Gales with Ndrio (the friend) and the maid with her boyfriend, but also the Countess with the friend who came from across the sea.