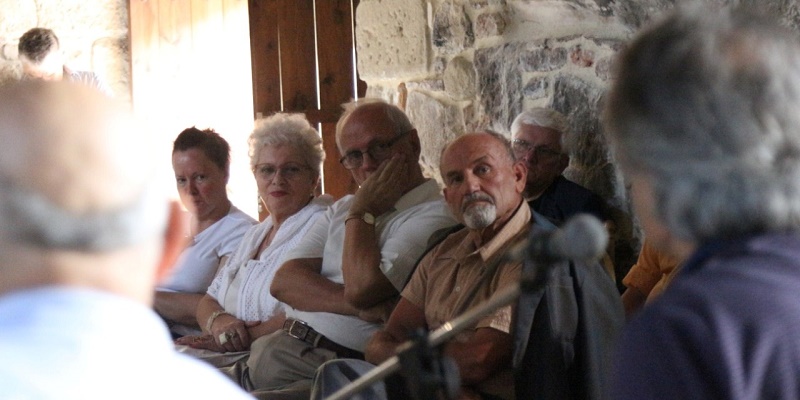 Theater - Audience - Time
Overview
 #DeFestApolonia 2019
"Theater - Audience - Time",
Referred - art professors, theater researchers and critics, filmmakers, actors, dramatists, writers, poets and moderator Prof. Dr. Joseph Papagonin.
The playwrights referenced: Pellumb Tower and Bashkim Kozeli, Prof. Dr. Josif Papagoni and Nebi Islami, theater critics Miho Gjini, Emin Emini and Primo Shllaku, directors: Milto Kutali and Mevlan Shanaj, actors: Arjaile Goro, the poet Petrit Ruka etc. De - Fest Apolonia 2019 - International Festival of Scenic Art, organized by the Municipality of Fier, within the framework of #TOURNEE FESTIVALS, #IPA Italy-Albania-Montenegro Program.
Ne kuader te Festivalit #DeFestApolonia 2019 u zhvillua edhe nje tjeter sesion shkencor/debat me temen: "teatri – publiku - koha", ku referuan profesore te artit dramatik, studiues e kritike teatri, regjisore, aktore, dramaturge, shkrimtare e poete te njohur dhe moderator Prof. Dr Josif Papagjonin.
Seisioni trajtoi tema e probleme te rendesishme qe kane te bejne, jo vetem me gjendjen e sotme te artit skenik, por edhe me perspektiven e zhvillimit te metejshem, nepermjet edhe nje debati te nxehte, para e pas disa shfaqjeve nga trupa te ndryshme te rajonit.
Referuan dramataturget: Pellumb Kulla e Bashkim Kozeli, Prof. Dr. Josif Papagjoni e Nebi Islami, kritiket e teatrit Miho Gjini, Emin Emini e Primo Shllaku, regjisoret: Milto Kutali e Mevlan Shanaj, aktoret: Luftar Paja e Arqile Goro, poeti Petrit Ruka etj .
De - Fest Apolonia 2019 - Festivali Nderkombetar i Artit Skenik , organizohet nga Bashkia Fier, në kuadër të #TOURNEE FESTIVALS, Programi #IPA Itali-Shqipëri-Mali Zi.